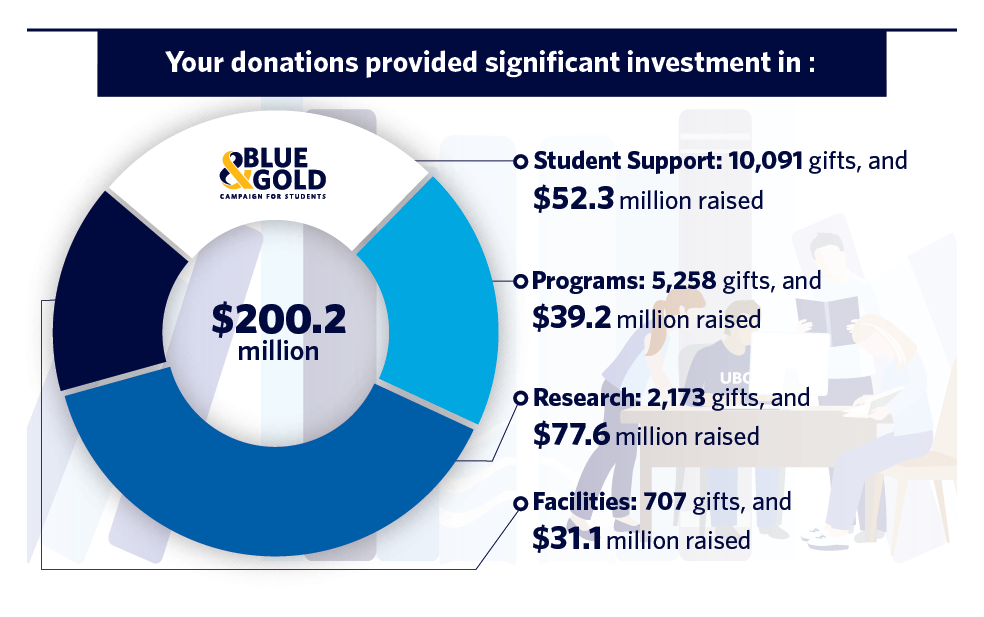 Impact of Giving: A Message from the President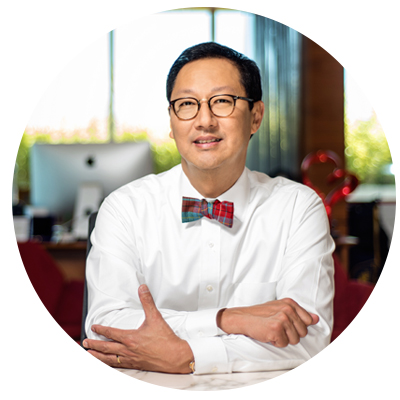 Thank you very much for your gifts to students, faculty, programs and resources at UBC over the past year. Our collective efforts to boost education and research today will create future leaders and leading research that will improve our community tomorrow.
In this year's Impact of Giving, we've gathered together just a few stories that illustrate the impact donors like you have on students, faculty, and the community. I hope they inspire you just as they have inspired me. We look forward to continuing to work with you to make more stories just like these.
Thank you!
Santa Ono
President and Vice-Chancellor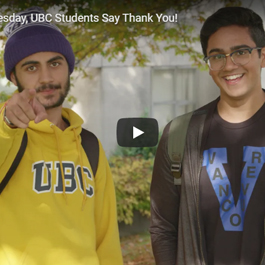 On Giving Tuesday, students say Thank You!
Last fall, for Giving Tuesday, we asked UBC students to reflect on what your donations mean to them. Here's what they had to say.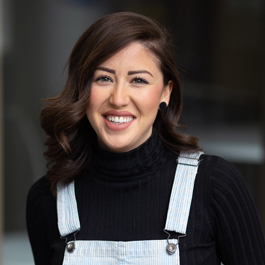 How the Blue & Gold bursary changed one student's life
"It meant the world to me." Dominica Patterson was one of the first students at UBC to receive support from the Blue & Gold Bursary. It helped her take the first steps into her career—and now she's ready to change the world.



How a donor-funded scholarship helped a Land & Food Systems student make a difference

"It's encouraging to know there are people out there who appreciate my work. It puts what I'm doing here at UBC into a bigger perspective – a community perspective."

— Jeff Holmes, a fourth-year student in the Food, Nutrition and Health program




Innovation in Policy: How UBC is influencing global affairs

Inspired by the work of UBC Professor Yves Tiberghien, a donor helped UBC create the Vision 20 Initiative which gives students the learning experience of a lifetime.




Ken Woods Thunderbird Award helps student athletes play at the top of their game

UBC graduate and noted philanthropist Ken Woods' experience as a student prompted his desire to create a scholarship for gifted student athletes. Co-captain of the women's golf team Kate Johnston says receiving the award allowed her to elevate her game to the next level.
How donors are making a difference at UBC
UBC Media Release Highlight
UBC tops global university impact rankings: Times Higher Education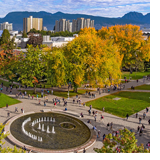 The University of British Columbia is ranked number one in the world for taking urgent action to combat climate change and its impacts and ranked one in Canada for making cities inclusive, safe, resilient and sustainable, according to Times Higher Education (THE).
Happening at UBC
Agents of Change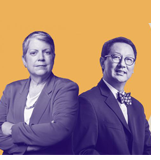 At this keynote event of the UC3 Climate Summit, University of California President, and former U.S. Secretary of Homeland Security, Janet Napolitano and UBC President Santa Ono will discuss the very important role universities should play in helping solve the crisis of climate change.
A Letter from Santa: Welcome to the first issue of Letter from Santa, a regular communication to members of the UBC community.