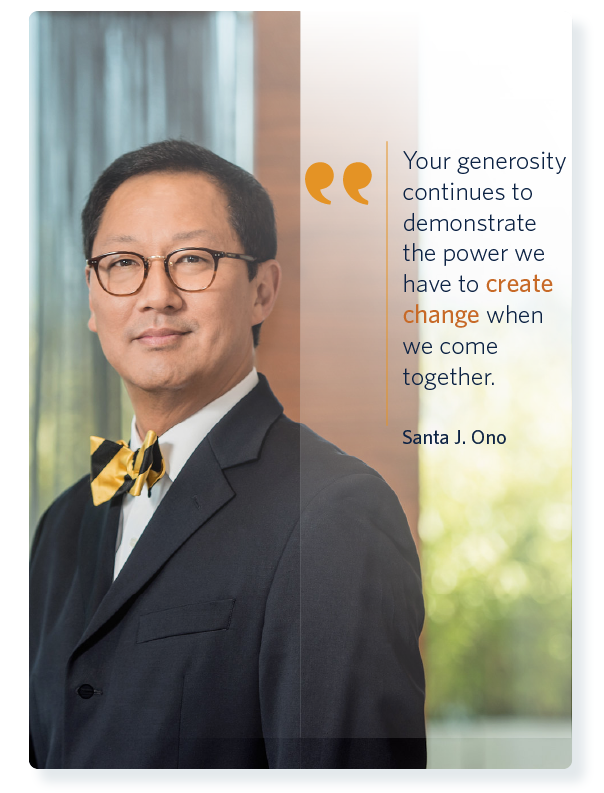 Donors continue to inspire. No matter the circumstances we find ourselves in, your support for UBC clearly demonstrates your belief in the power of knowledge, research and education to create a better future.
This first half of 2020 has transformed our world, and I am certain that when we come together, we can make the positive changes we desire to see. In this newsletter, you'll find news and stories that illustrate how your generosity is activating the energy, creativity, and expertise of UBC students and faculty to make a meaningful difference. I hope these stories inspire you the same way you inspire me.
Thank you for your continued commitment to UBC and to building a brighter future, together.

Santa J. Ono
President & Vice-Chancellor
Thanks to donors, during COVID-19, at UBC we aren't waiting — we're acting.

UBC President's Pandemic Recovery Initiative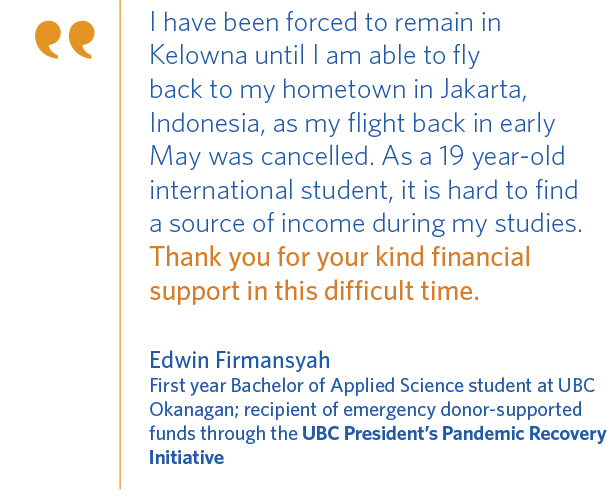 As a world-leading research university with a deep commitment to our students, UBC was able to respond quickly to the COVID-19 situation by creating the UBC President's Pandemic Recovery Initiative (UPPRI). The generous response from our community has helped to provide emergency relief for students and to accelerate advanced research.

A big thank you to grade 6 and 7 students at Robert's Creek Elementary School!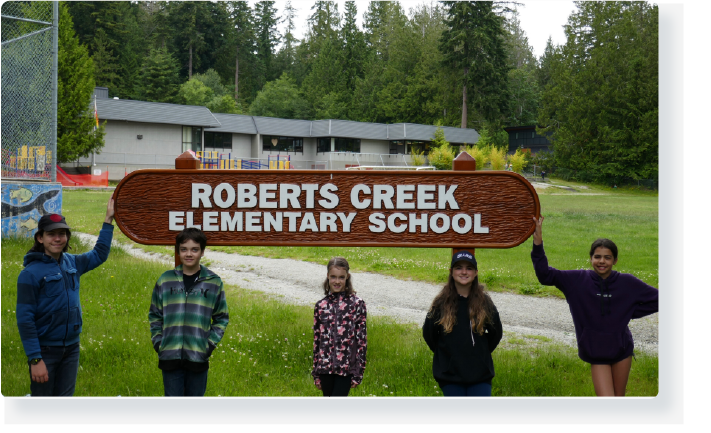 Earlier this year, Robert's Creek Elementary School held a pizza sale to raise funds for a field trip to Science Fun Day at Vancouver's Playland. When COVID-19 led to the cancellation of the trip, the class generously chose to donate some of the pizza funds to the UBC President's Pandemic Recovery Initiative. The school's thoughtful philanthropy shows compassion starts early — and it's never too soon to start changing the world.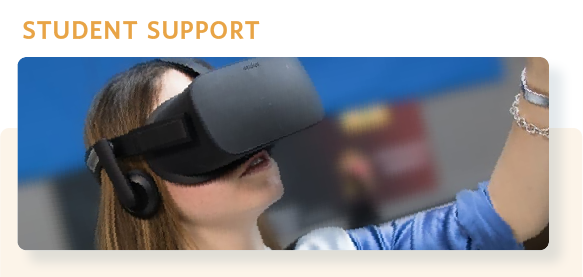 Lina Zdruli: empathy for the refugee
Using virtual reality technology, UBC alumna Lina Zdruli highlights the plight of Syrian refugees with her VRefugees project.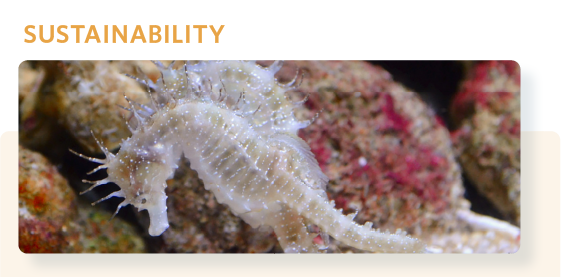 Donor-supported UBC project wins top award in animal conservation
UBC is a world leader in sustainability and taking action to tackle climate change. This means donors can have a direct impact on our world by helping to make many kinds of research possible.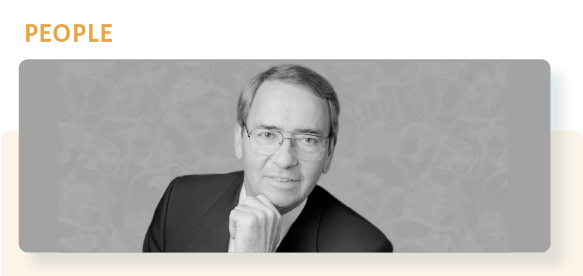 A Four Pillars Legacy: The Philip Owen Professorship in Addiction Medicine
In honour of former Vancouver Mayor Philip Owen's visionary approach to drug addiction, friends and colleagues have established the Philip Owen Professorship in Addiction Medicine at UBC.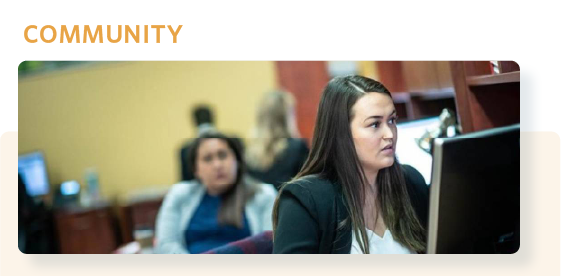 Donor-funded law clinic at UBC supporting Indigenous communities during outbreak
"Their hard work is changing the way Indigenous peoples are being represented." Donor-funded UBC law clinic takes extraordinary steps to continue supporting Indigenous communities during outbreak.



Watch: How your gifts are supporting research to make the world a better place
Donors play a vital role in helping UBC continue to produce trail-blazing innovation and research. From medical breakthroughs to quantum research, find out more about how — by supporting UBC — you are playing your part in shaping the future.



Chair will offer new perspectives and knowledge on historical Indigenous art
"There is a tremendous power and distinction in Indigenous art," says UBC alumnus and philanthropist Michael Audain, one of BC's most ardent champions of the visual arts.
The new Audain Chair in Historical Indigenous Art will work to reveal that power and distinction by studying and celebrating historical Indigenous art. Established with a gift from the Audain Foundation, the Audain Chair will ultimately contribute to a deeper and more inclusive understanding of our nation's Indigenous culture, history and identity. "I hope the chair will be an opportunity to enhance the knowledge and respect for historical art making by Indigenous people, both on the West Coast of Canada but also throughout the world," Audain says.

MacInnes Family Field: A family's legacy to multiple generations
William Eugene MacInnes passed away in 1934, while still a student at UBC. Thanks to an endowment by his parents, ever since then, an athletic field at the heart of the Vancouver campus has borne the family name.
In 2019, the MacInnes Family Field was relocated. A generous gift from Dr. Janet Isabel MacInnes, granddaughter of the original donors, has ensured the MacInnes name will continue to be associated with UBC Athletics. The field will now have state-of-the-art all-season turf allowing year-round recreational use for UBC students. Fitting, as it always has, in the centre of campus, MacInnes Family Field is a true family legacy for multiple generations.

Farewell to Lindsay Gordon;
Welcome to Steven Lewis Point
After six years of exemplary service to the university, Chancellor Lindsay Gordon stepped down from his role on June 30. Gordon has been the honorary head of UBC since 2014, and has made a real difference in the lives of UBC students by serving as co-chair of the start an evolution campaign, which raised more than $1.6 billion and engaged more than 130,000 alumni.
As we thank Lindsay Gordon for his service, we also welcome the Honourable Steven Lewis Point as UBC's 19th Chancellor. Dr. Point, who assumed his role on July 1, is not only a UBC graduate and honourary degree recipient, he is the former Lieutenant Governor of British Columbia. He will be the first Indigenous person to hold the position, and we are truly honoured that he has agreed to serve as Chancellor of UBC.