About Stanley Hashimoto
Dr. Stanley Hashimoto joined the UBC medical faculty in 1974. During his 45 years practicing neurology, he shaped the careers of many neurologists who have continued his legacy of compassionate care and clinical excellence. He passed away on December 3, 2016, at Vancouver General Hospital where he served as a neurologist for more than four decades.
Stanley was the director of UBC's post-graduate neurology program from 1990-2001, which he described as some of the most rewarding years of his career. Through his tenacity and passion for training future neurologists, he personally raised funds for residents to attend conferences and financed additional learning opportunities, while attending to his private practice and university appointment. He once expressed: "I have a special bond with many of the graduates of our program, which continues to this day, something that I treasure greatly."
From 1980 to 2000, Stanley and his close colleague, Dr. Donald Paty, established the University of British Columbia Multiple Sclerosis clinic, which has grown to be the largest and most respected MS clinic in the world for its multidisciplinary approach to treating and supporting MS patients. In the latter years of his practice, Stanley expanded the UBC MS clinic reach by establishing satellite clinics in Prince George and Victoria, where he attended clinic regularly.
In recognition of his incredible contributions to the medical field, he was inducted into the Canadian Medical Association and the British Columbia Medical Association as an honorary member in 2007. He was awarded Professor Emeritus of University of British Columbia for his dedication to his patients and post-graduate teaching.
Read More
The impact of your support
The Dr. Stanley Hashimoto Memorial Fund will commemorate Stanley's contributions to the UBC Division of Neurology and to the profession.
Your donation will support neurology resident training and education and will help create a fitting legacy for Stanley's life and career.
Click here for a video montage of Stanley Hashimoto, created by his family.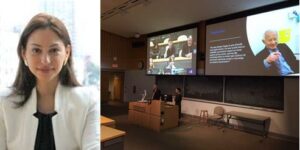 The 3rd annual "Dr. Stanley Hashimoto Memorial Lectureship", was held on February 19, 2020 at VGH in the The Cordula and Gunter Paetzold Auditorium within the Jim Pattison Pavilion. The guest speaker was Dr. Kirian Thakur who is an Associate Professor at Columbia University Irving Medical Center ('CUIMC'). In addition to her clinical work at CUIMC, Dr Thakur works internationally, educating trainees and performing clinical research, and is a consultant for the WHO. Dr. Thakur leads the post-doctoral neuroinfectious disease clinical research fellowship for LIC and LMIC physician-scientists at Columbia. Her clinical areas of expertise include neuroinfectious diseases, neuroimmunology, emergency neurology, and community and global health.
Dr. Thakur's topic was on "Tackling acute CNS infectious and inflammatory conditions: Identifying the best approach to turn the mysterious into the treatable". We would like to thank Dr. Thakur for making the time to visit and for all the kind donations which makes this lectureship possible every year.

The 2nd annual "Dr. Stanley Hashimoto Memorial Lectureship", was held on February 27, 2019 at the Neuroscience Grand Rounds at VGH. The guest speaker Dr. Farrah J. Mateen is presently the Associate Professor of Harvard Medical School at Massachusetts General Hospital ('MGH'). She currently serves as Director of Global Health at the MGH Department of Neurology. In front of a very well attended gathering of neurologists, her topic, "Neurology of the Global Stage: Diseases, Decisions, and Delivery" was inspiring. Thank you for all your kind donations which made this lectureship possible.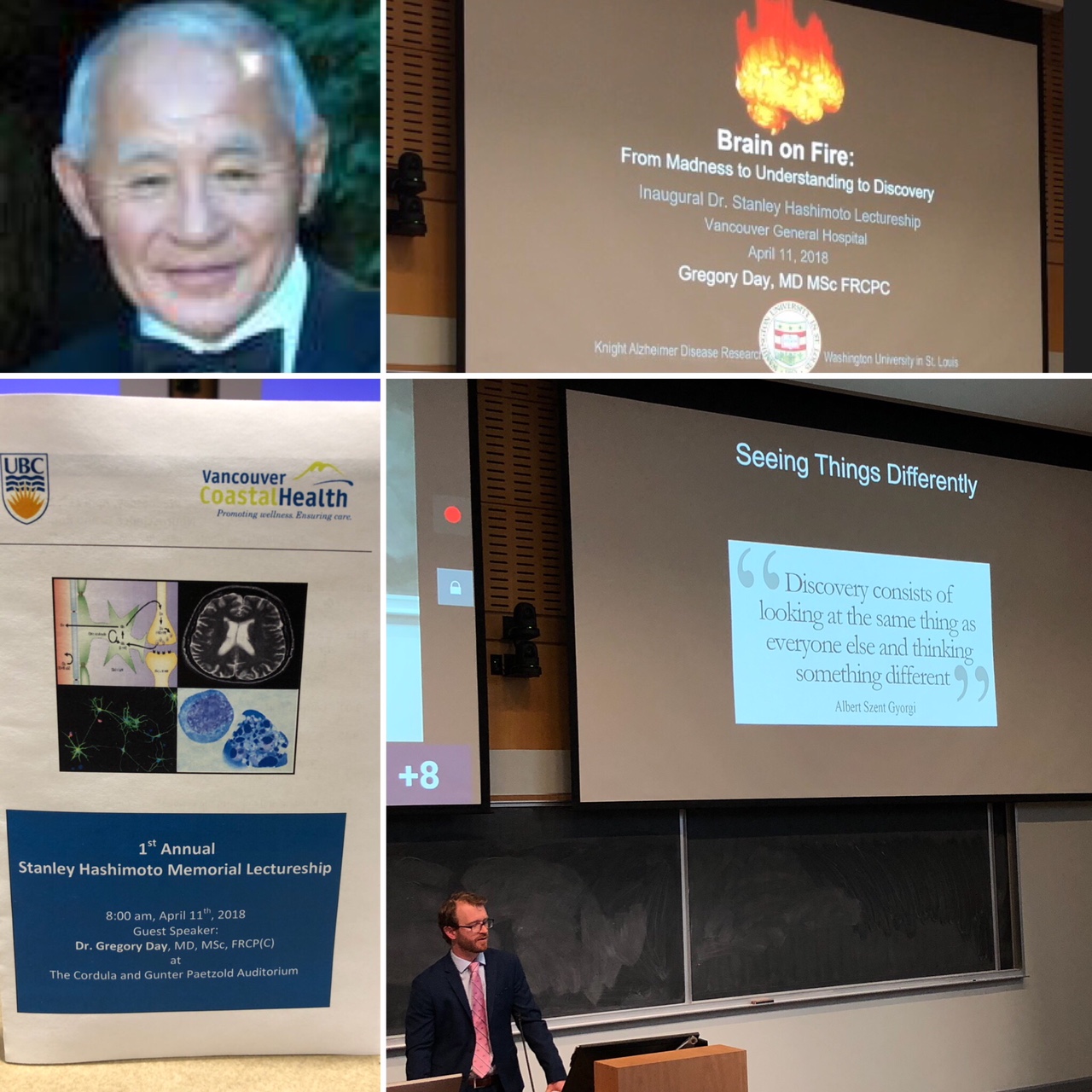 The inaugural " Dr. Stanley Hashimoto Memorial Lectureship " was held on April 11, 2018 at the Neuroscience Grand Rounds at VGH.
The inaugural guest speaker Dr. Gregory Day is presently the Assistant Professor of Washington University School of Medicine.
His Topic, " Brain on Fire " from Madness to Understanding to Discovery was enlightening and educational for all who attended!
Thank you for all your kind donations which made this lectureship possible.
Read More
Carol Murphy & Duncan Anderson

Jean and Angus Richardson